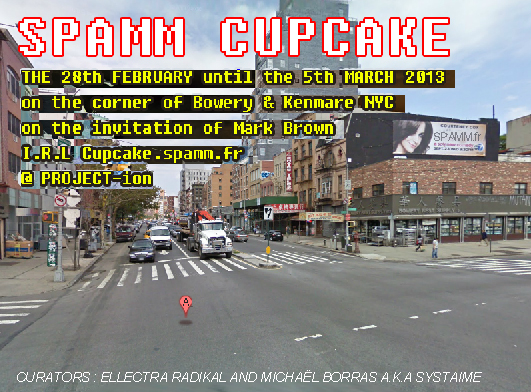 THE 28th FEBRUARY until the 5th MARCH 2013
168 the corner of Bowery & Kenmare NYC
on the invitation of Mark Brown
I.R.L Cupcake.spamm.fr

@ PROJECT-ion
Website
Facebook Event
https://www.facebook.com/events/251370841665029/




???????????????CURATORS???????????????
ELLECTRA RADIKAL

https://www.facebook.com/ellectra.radikal
MICHAËL BORRAS A.K.A SYSTAIME

http://www.systaime.com
????????????????ARTISTS????????????????
David Dao Ellena

https://www.facebook.com/
david.dao.ellena
Andrew Benson

http://pixlpa.com/
Erica Lapadat-Janzen

http://ericalapadat-janzen.com/
Jefta Hoekendijk

http://jefta.be/
Yon Crtz

https://www.facebook.com/Lluevenmandarinas
LaTurbo Avedon

http://turboavedon.com/
Jonas Lund

http://www.jonaslund.biz/
Kake Cake

https://www.facebook.com/dreamburger
Avatar Liberation Front

http://www.a-l-f.be/
Anaïs Vailland

https://www.facebook.com/anais.vailland
Haydi Roket

https://www.facebook.com/haydiroket
* Ü•`•.¸¸.•´´•:*´¨`*:•.••.¸¸. ´´¯`•Ü•*Ü•`•.¸¸.•´´•:*´¨`*:•.••.¸¸.
´´¯`•Ü•
Cupcake : The sublime in the mind of the senses.
The exhibition "Cupcake" is a deployment at the size of the
virtual world's spirit, a meeting realized in the act of new artistic
and digital practices, a new event where time zones do not exist any more,
where the space of the screen is providence, an unveiling, an appearance
of our modernity.
More than 50 artists joined together to create with similar curiosity an
aesthetic truth which is given in itself.
For Cupcake, names do not have authority anymore, only the unity of contemporary
allegorical research without borders, without physical territories that
call us 24/7 to new customs, a fictitious game which is only anticipating
the logical truth of its ideas.
A strange solidarity is born, a mutual translatability to bring to Spamm
a "function" of the third millennium's poetry, where the
sublime expresses itself in the mind of the senses.
We suit no theory, no convention, for your pleasure !
* Ü•`•.¸¸.•´´•:*´¨`*:•.••.¸¸. ´´¯`•Ü•*Ü•`•.¸¸.•´´•:*´¨`*:•.••.¸¸.
´´¯`•Ü•
Cupcake : Du sublime dans l'esprit des sens .
L'exposition "Cupcake" est un déploiement à la mesure
de l'esprit du monde virtuel, une rencontre réalisée dans l'acte
des nouvelles pratiques artistiques et digitales, une espèce nouvelle où
les time zone n'existent plus, où l'espace de l'écran
est une providence, un dévoilement, une manifestation de notre modernité.
50 artistes se sont rejoint faisant d'une commune curiosité une vérité
esthétique qui se donne d'elle même.
Pour Cupcake, les noms n'ont plus d'autorité, seule l'unité
d'une recherche allégorique contemporaine hors frontières, hors territoires
physiques nous appelle 24 h / 24h à de nouvelles coutumes, un jeu fictif
qui ne fait qu'anticiper la vérité logique des idées .
Une étrange solidarité est née, une traductibilité réciproque pour porter
à Spamm une "fonction" de la poésie du troisième millénaire,
où s'expriment le sublime dans l'esprit des sens.
Nous ne convenons à aucune théorie, aucune convention pour votre plaisir
!
* Ü•`•.¸¸.•´´•:*´¨`*:•.••.

http://cupcake.spamm.fr/

* Ü•`•.¸¸.•´´•`*:•.••´¯`•Ü•
SPAMM founders : Michaël Borras & Thomas Cheneseau